Filmtools is a leading e-commerce brand that partners with the film and TV industry to provide comprehensive support during pre-production, production, and post-production phases. By leveraging the power of e-commerce, they have successfully expanded their reach across the nation and internationally, catering to the diverse needs of their customers.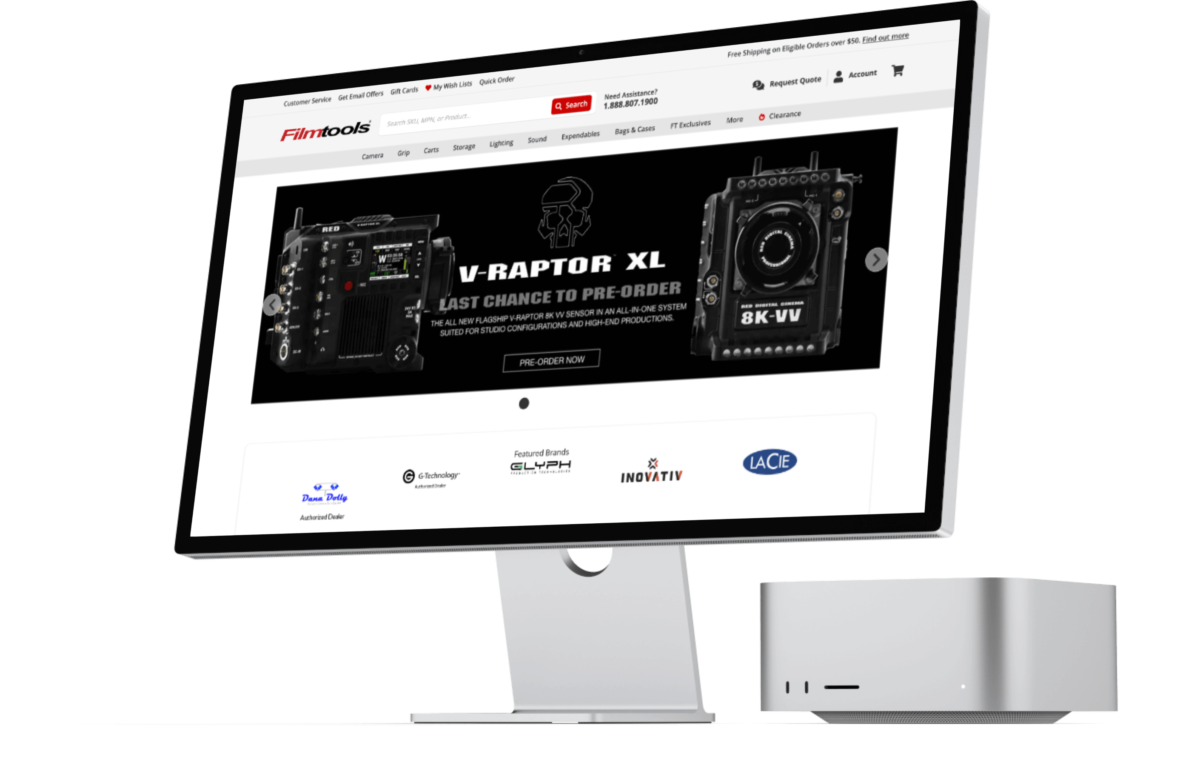 The sales and purchasing departments were experiencing delays and missed requests due to the inefficient communication methods used to send item requests, such as emails and phone calls. Multiple requests in a day led to longer processing times, slow turnarounds, and unmet departmental needs, prompting the need for a more streamlined and efficient approach.
This project aimed to simplify and consolidate request processes by creating a centralized platform. Collaborating closely with sales and purchasing, we identified the key information required to create requests for the web team to add items to the website.
User interviews

User flows
Wireframes
Mockups
Prototype
The primary users of this project were the sales and purchasing departments, who regularly communicated with the web team to add items to the company website. The sales department was selected as the initial user group due to their frequent interactions with the web team, which provided a valuable opportunity to test and refine the new platform before it was rolled out to other departments.
Leveraging my expertise as a web team member, I possessed a comprehensive understanding of the critical stakeholders associated with the project. To gain a more profound understanding of their needs and challenges, I conducted informal interviews with my colleagues, affirming the existence of the issue. With these insights in hand, I initiated a brainstorming process to generate innovative ideas and devise a strategic plan for the project.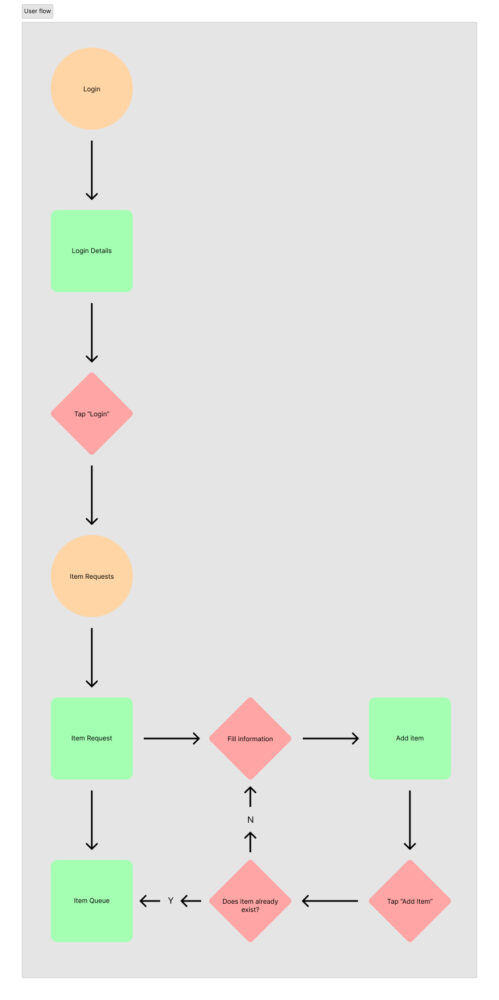 To kick off the design process, I created wireframes that followed what users should expect based on the user flow. Collaborating closely with the developer, I refined the wireframes and evaluated the feasibility of various design elements.
Once wireframes were validated with the developer, I solicited feedback from key stakeholders and iterated on the design based on their input. This process involved three rounds of wireframing.

After approval of wireframes, I delivered mockups for everyone to go over. While wireframes were great to help people understand layout and placement, the mockups helped create greater insight for the stakeholders with greater details.
Stakeholders and I further expanded on potential problem areas, such as bulk item uploads and notifications. We were able to remedy the problems with quick 30 minute sessions throughout the 2 weeks.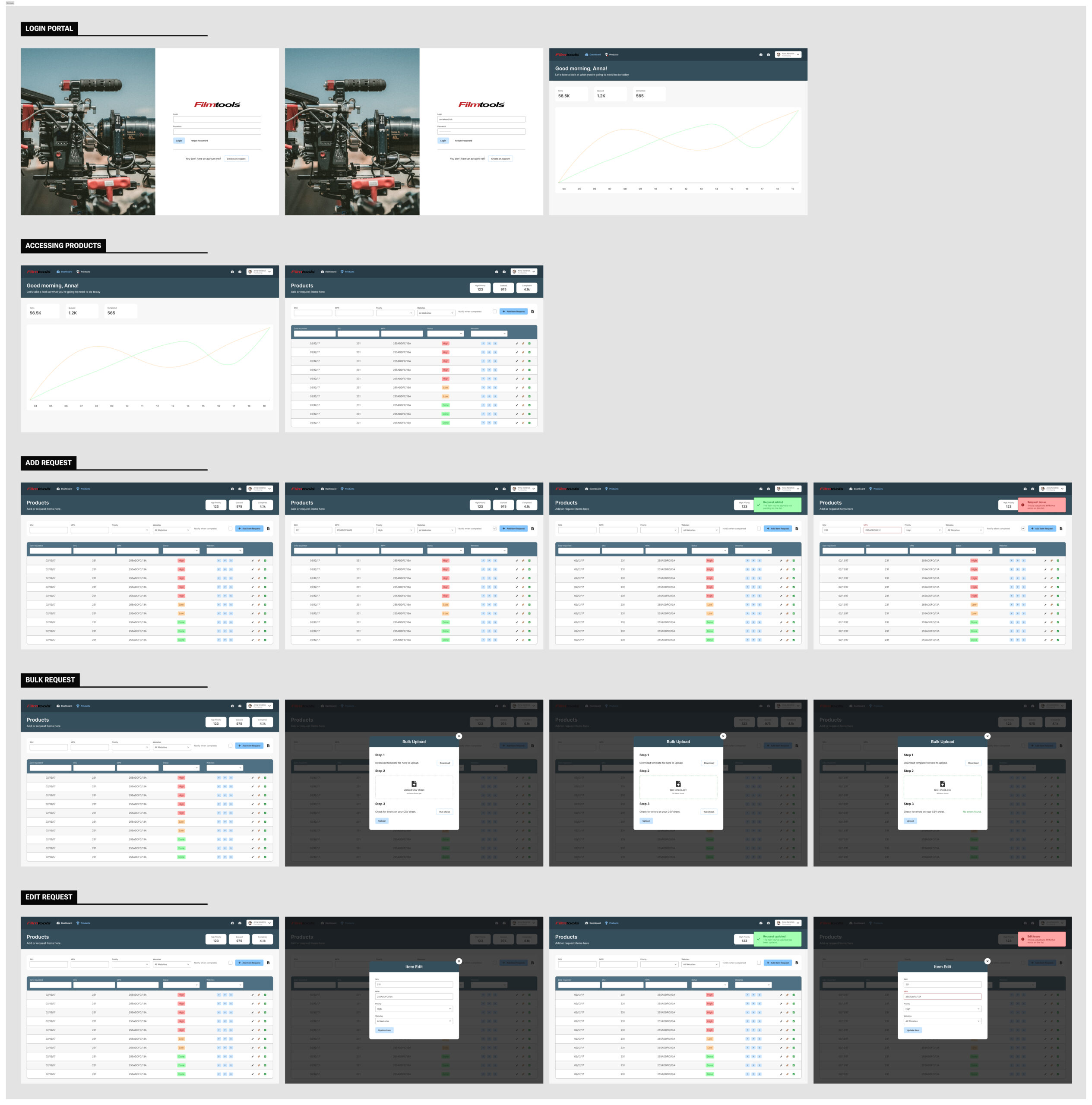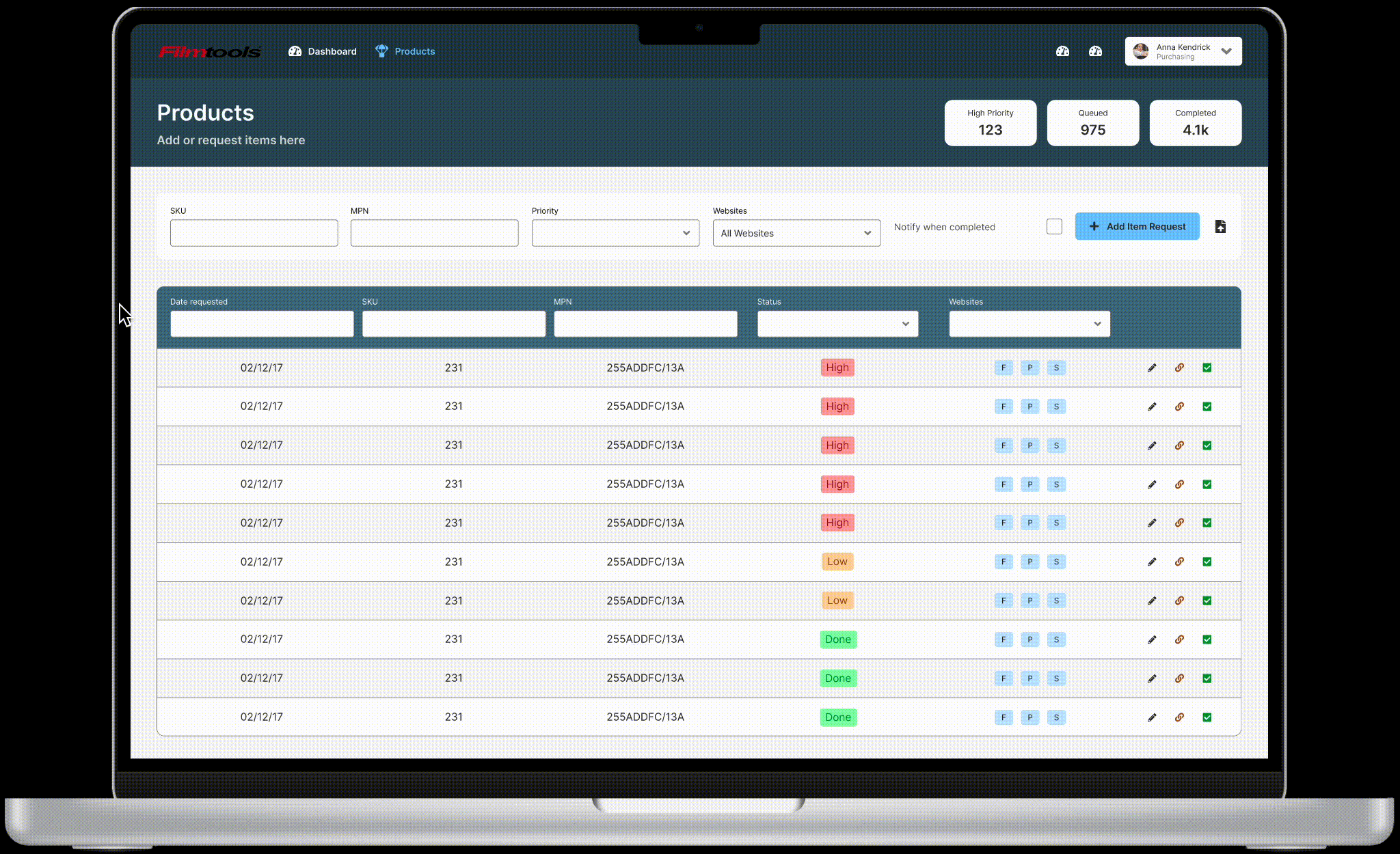 Ability to add items to a queue and track it
Sales & purchasing the web team with emails & calls to add item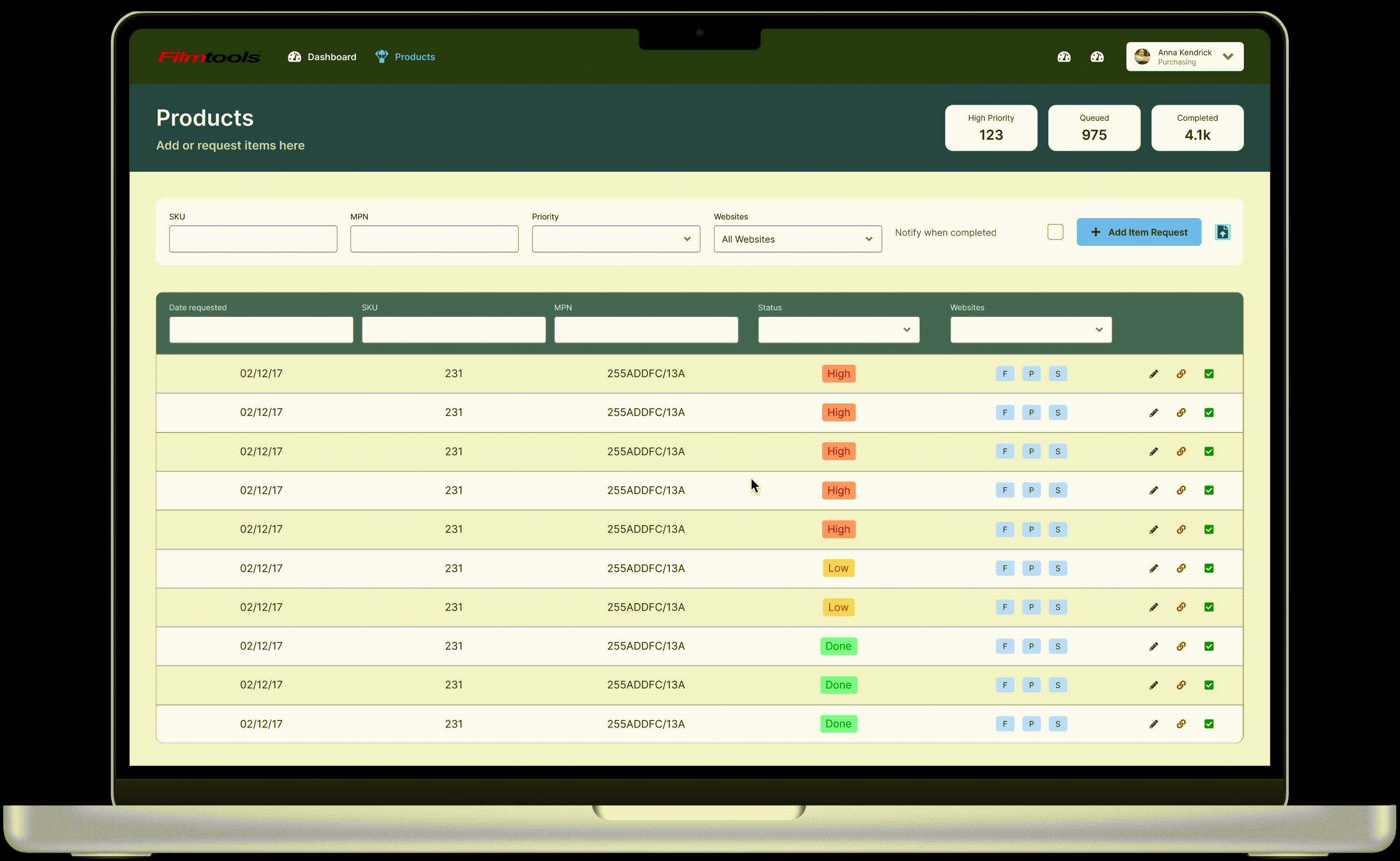 Ability to add multiple items at once into the queue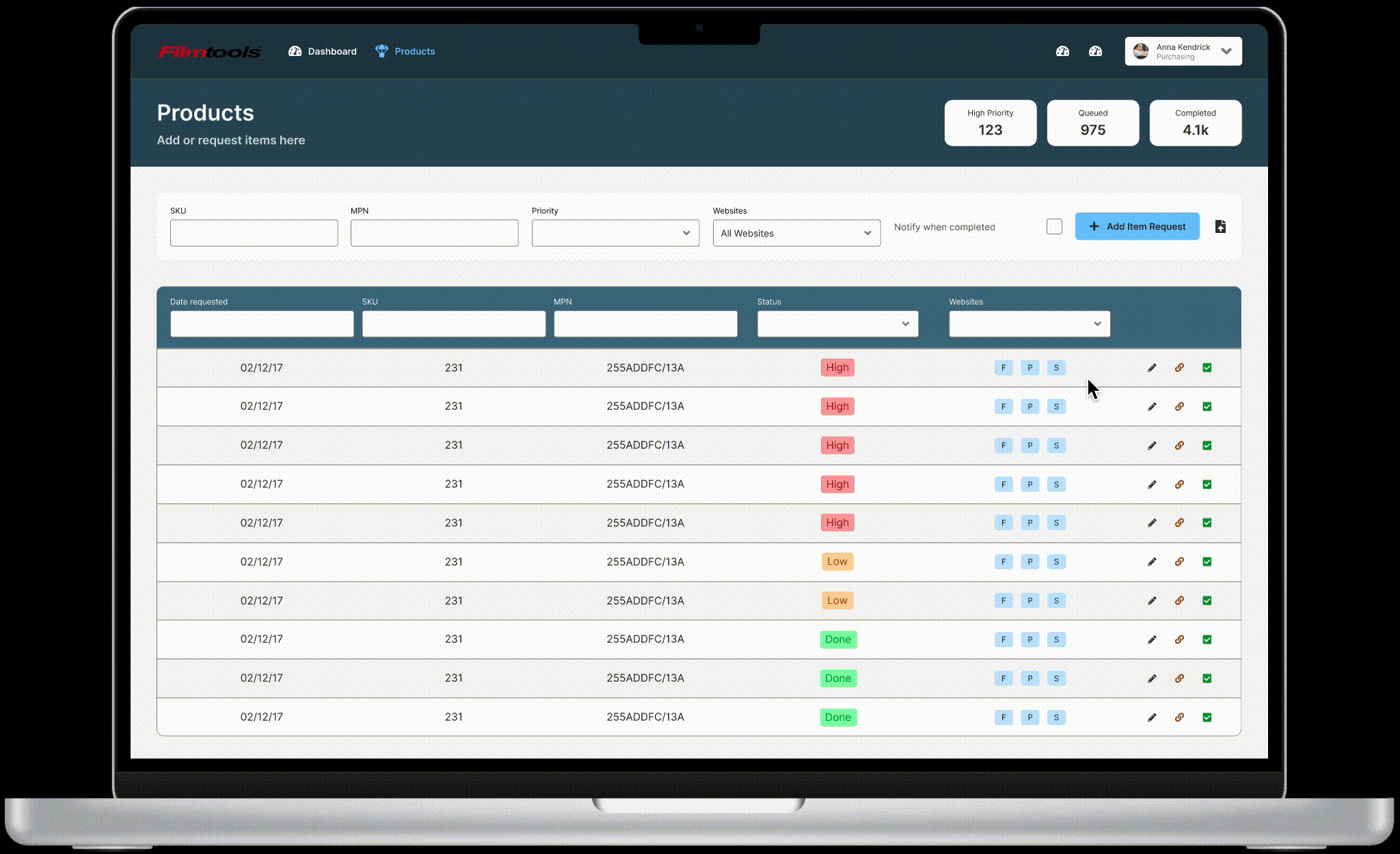 Ability to change previously added information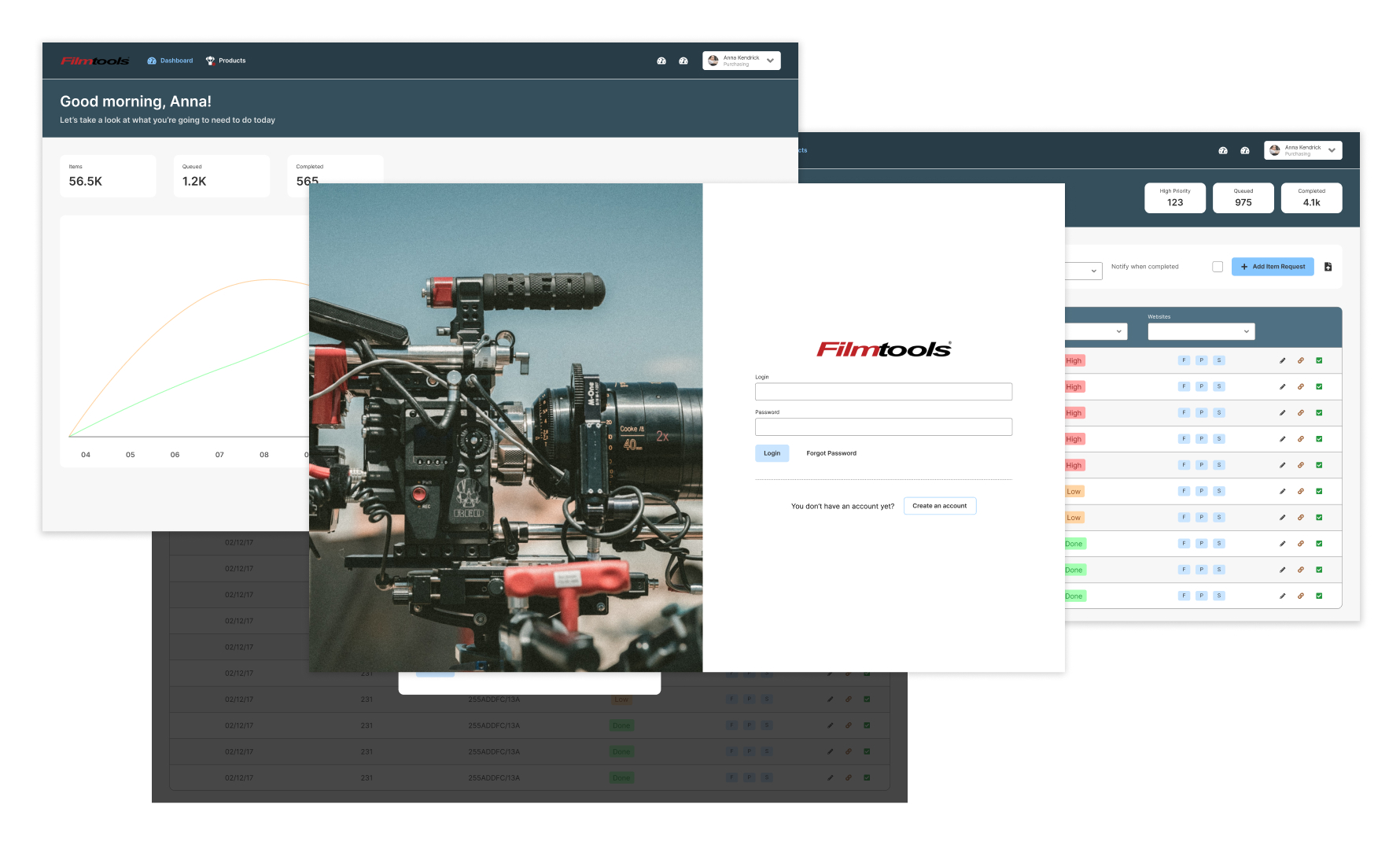 To ensure that the tool met the needs of its primary users, we began user testing with a select group from the sales department, who served as our alpha group. Based on their feedback, we refined and fine-tuned the system to better align with their needs before expanding testing to the entire department for further input. We followed the same process with the purchasing department, incorporating their feedback to further enhance the tool's effectiveness.
The tool was a resounding success, with both departments readily incorporating it into their daily routines. In fact, less than 5% of requests were made through the original communication route for item requests, highlighting the tool's tremendous impact. As an added bonus, other departments began viewing the tool as a central toolset and requested additional functionality to better meet their needs. This enthusiastic reception inspired us to explore ways to expand the tool's capabilities and continue improving its utility for all users.
Sales
Importing web orders from all store fronts (Web, Amazon, Ebay)
Integrating with quote software
Purchasing
Corresponding with 3rd party suppliers
Importing vendors sheets for pricing & availability
Integrating with syndicate sources for production information & specs
Shipping
Importing ship-ready orders from ERP to shipping sofware
Enabling real-time feedback for stock
Syncing tracking numbers between ERP & web storefronts
Management
Allowing time-based sales events
Adding reports functionality
Linking events & coupons across all platforms
Although we had a game plan for approaching the project, we lacked a dedicated project management tool and instead relied on a Google Doc to organize our tasks. The document utilized colors and comments to indicate project milestones and guide our progress. However, in retrospect, I feel that having a dedicated project manager would have been beneficial. A project manager could have helped to keep us on track with time management and remind us of project milestones, mitigating the risk of time constraints.
Although we used Google Drive to store our research findings, we found that the platform lacked organization and structure. In hindsight, a tool such as Notion would have been more suitable to consolidate our important findings cohesively and efficiently. Our current approach involved searching through specific files to locate relevant findings, which proved cumbersome and time-consuming, as the search tool was not designed for this purpose.