Filmtools is a premier e-commerce brand that works closely with the film & TV industry for their needs during pre-production, production & post-production. With the help of e-commerce, they have been able to expand across the nation & internationally as well.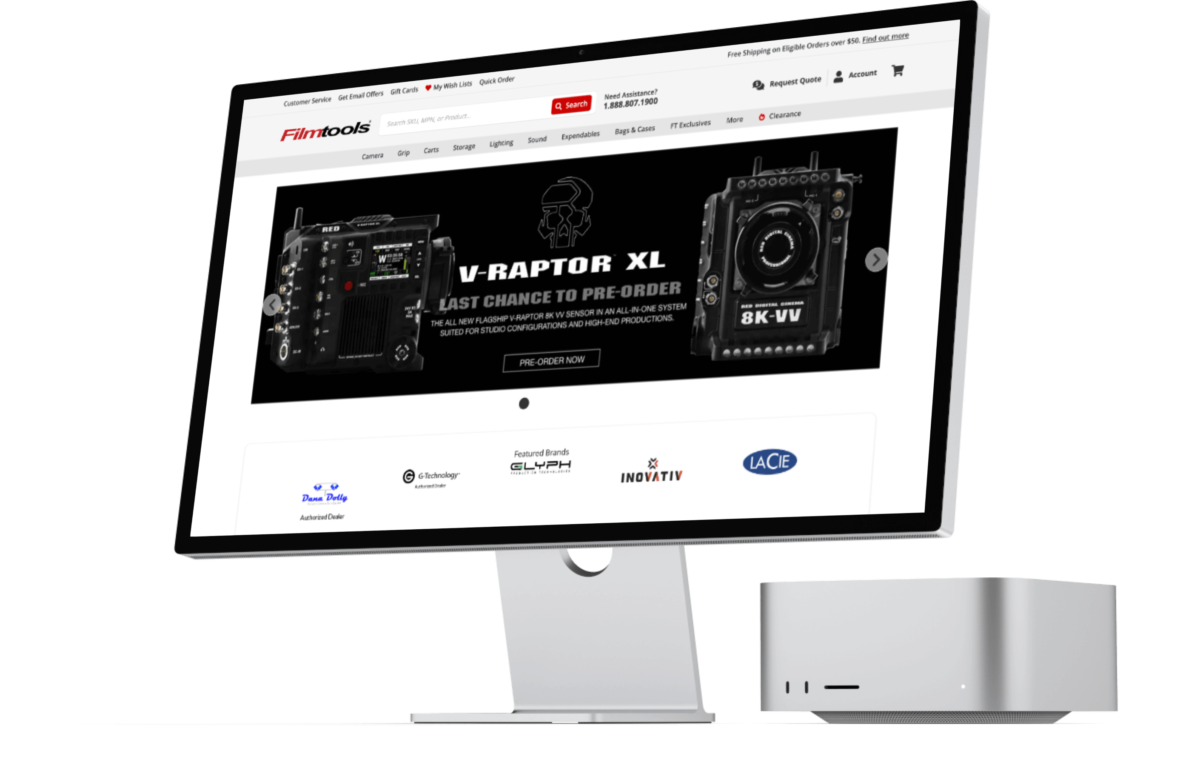 Filmtools relied on email & phone communication systems to send & receive requests from various departments. If departments are sending multiple requests in one day,  some requests are being missed and this created a problem. Because of this inefficient process, longer processing time is required, turnarounds were slow, and departments felt their needs weren't being met. The primary goal of this project was to streamline and centralize requests into one platform. Working closely with the sales & purchasing, we identified the key items needed when creating requests to the web team to add items onto the website.
Secondarily, we wanted to create a design system that resembled the company's inventory management system that they have grown accustomed to. 
The primary users for this project were members of the sales & purchasing departments. However, the purchasing department was chosen to be the first users since they were in communication with the web team on a daily basis.
Once the primary users needs were met, we could expand the tool to other departments. Such departments, included customer service, since they were on a daily contact basis with customers.
The project was broken down into four different stages. Each stage had a level of requirements that needed to be met in order to move onto the next one. This helped myself & the two departments work together to finish the project.
Since this project was not identified by management, this was a side project I had to work with a software engineer on the side. We met in early morning sprints and devoted a block of time for us to jam without interfering with our primary responsibilities.
Guidelines & Design System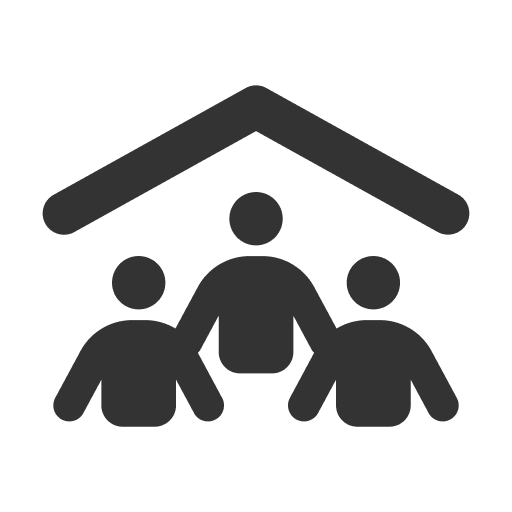 With the advantage of being on the web team, I already knew the stakeholders I needed to talk to. I began informally interviewing with my colleagues, which later confirmed the issue at hand. Once gathering my notes, I began the process of early brainstorming.
Two personas were created for this, one for the web team and another for purchasing. Creating the goals and tasks, I was able to effectively map out what the user flows would look like on a view-by-view basis.
Initially, I wireframed to define what screens would be present through the user's journey through the tool.
After wireframing was done, I talked to the developer about the vision and discussed the feasibilities of some parts of the design.
Once validated with the developer, I went forward and discussed with the main stakeholders and re-iterated based on their feedback. We went through 3 rounds of wireframing before the first mockups were delivered.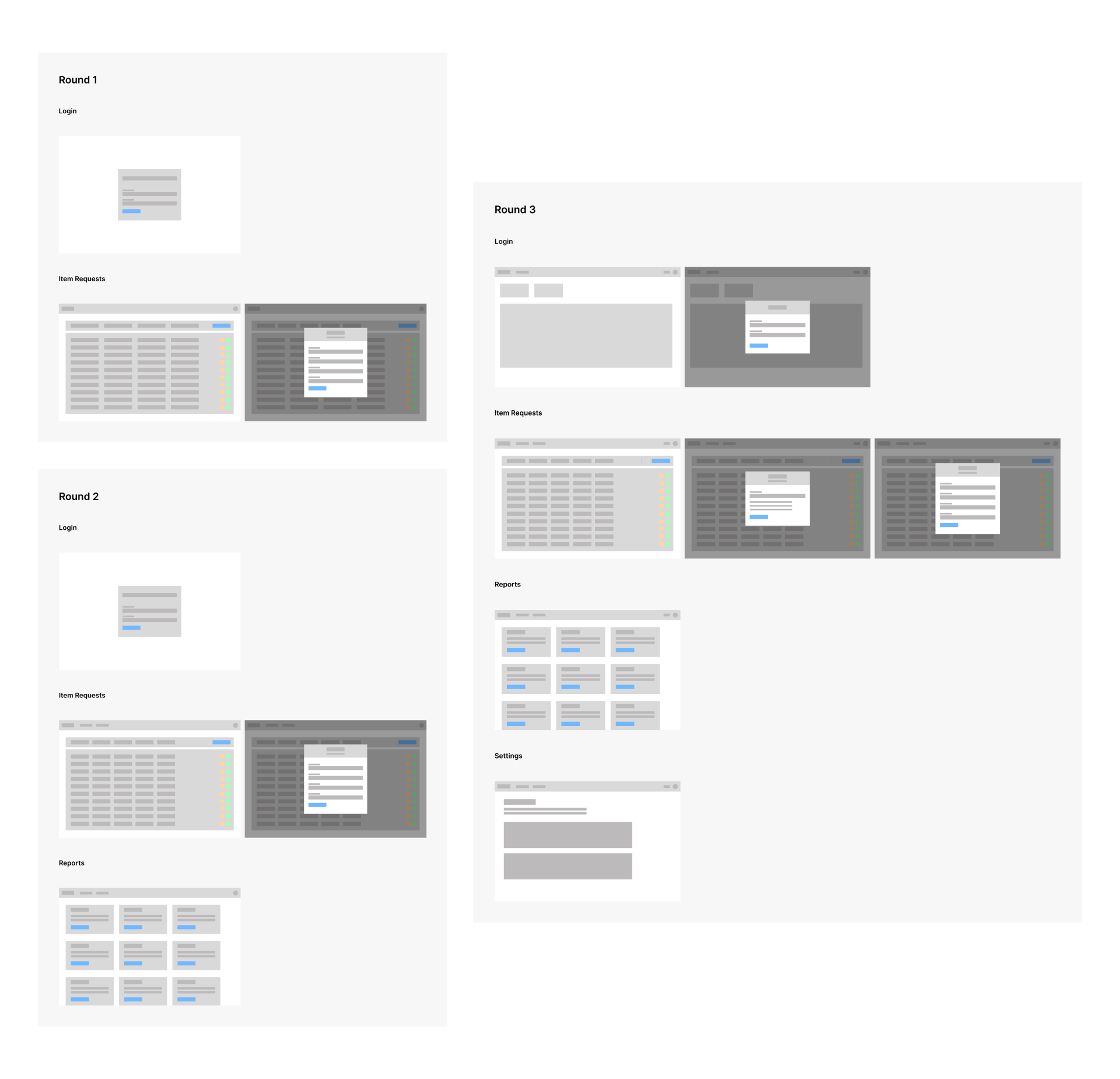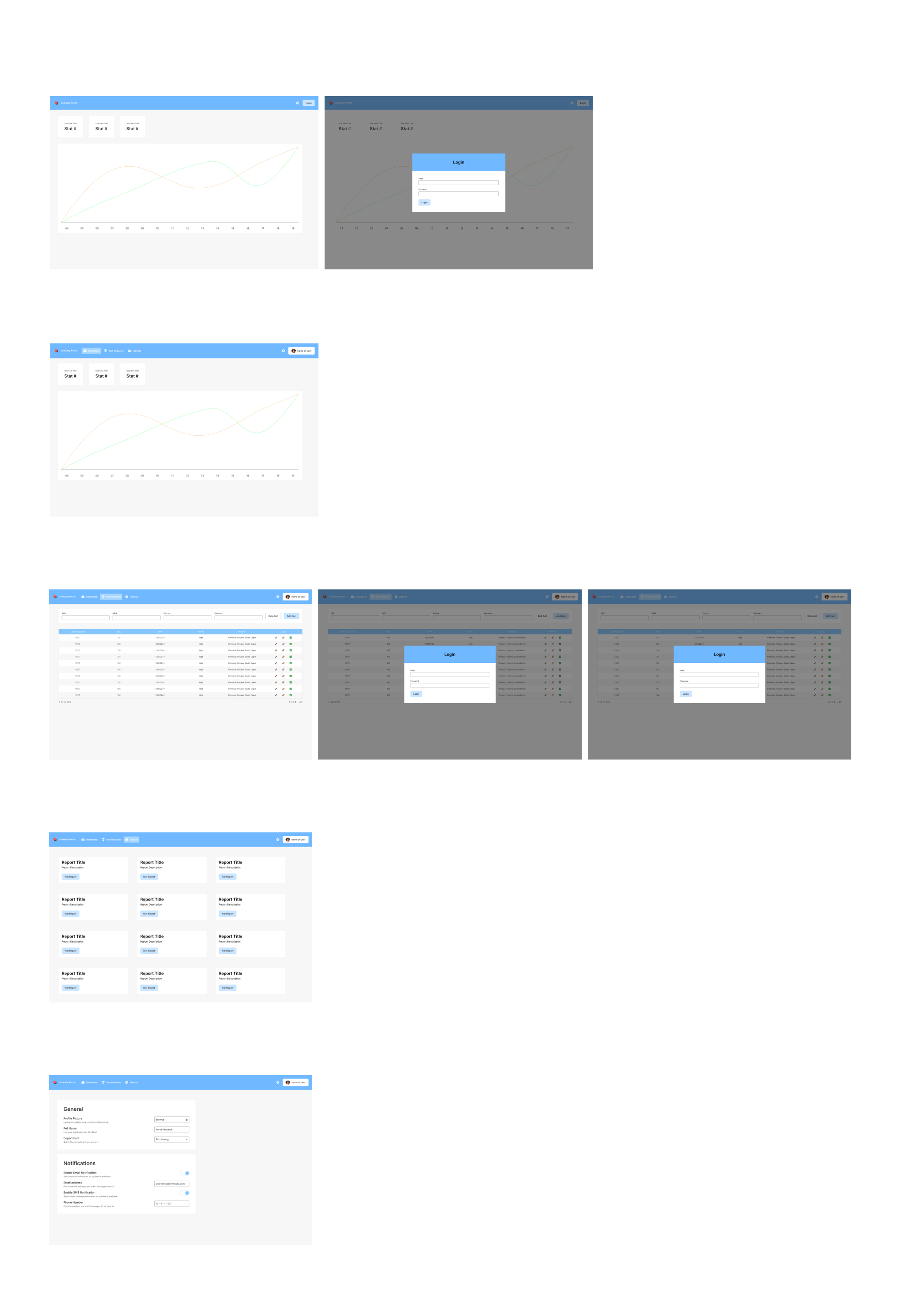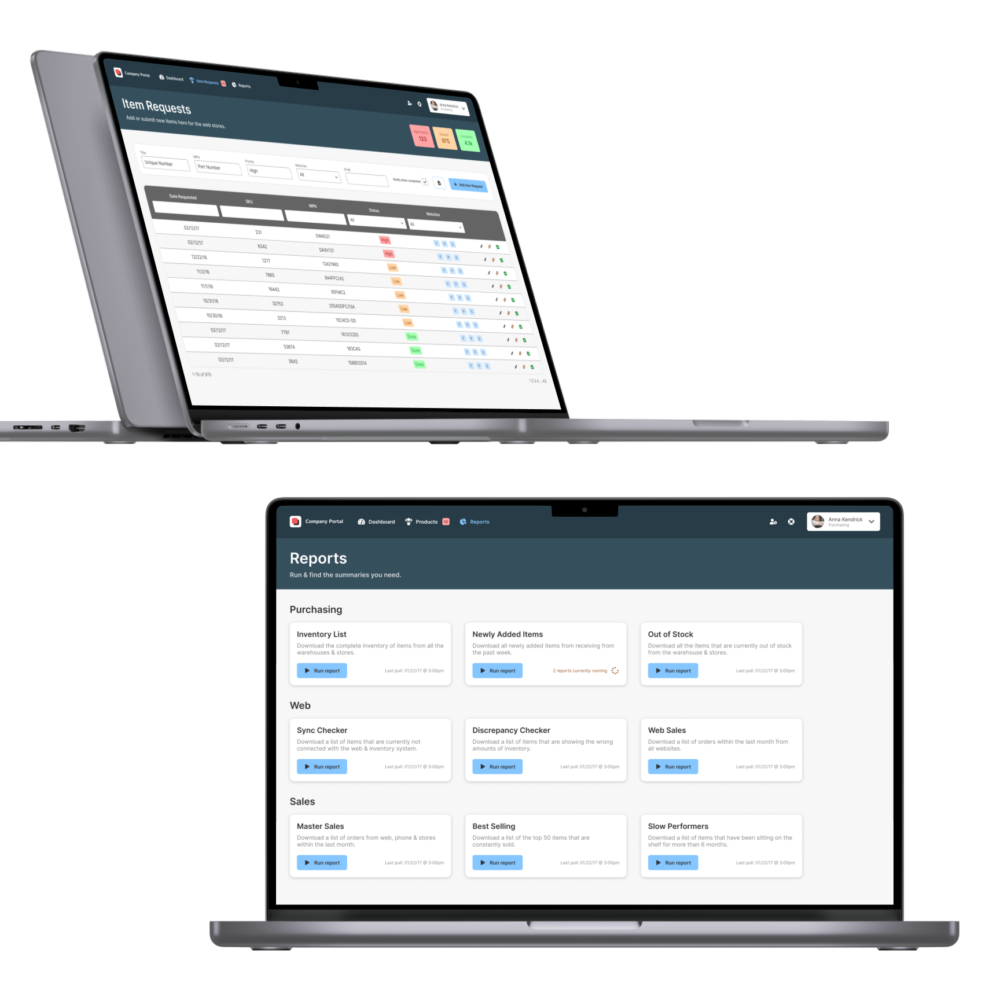 We now have a SaaS-based product that allows users from all different regions (West, Mid-West, and East) to log in and access the toolsets they needed to request items to be added onto the websites. As an add-on, we were able to implement some preset reports that were often requested by management and sales.
Our primary goal was met since we were able to move all corresponding teams away from using email communications and add requests into the system. On top of that, our secondary goal was met by creating a design system specifically for the internal portal system. This would grow over the years as more feature requests were added and portal's use was expanded.
Once a user navigates to "Item Requests", users can place a request for a single or bulk amount of  items. After placing a request, the user can view the list of products that are in queue.
As a web team user, we were given the ability to see the stats count on the top right and as well as the action icons next to each item request. These were elements we deemed unnecessary for other users.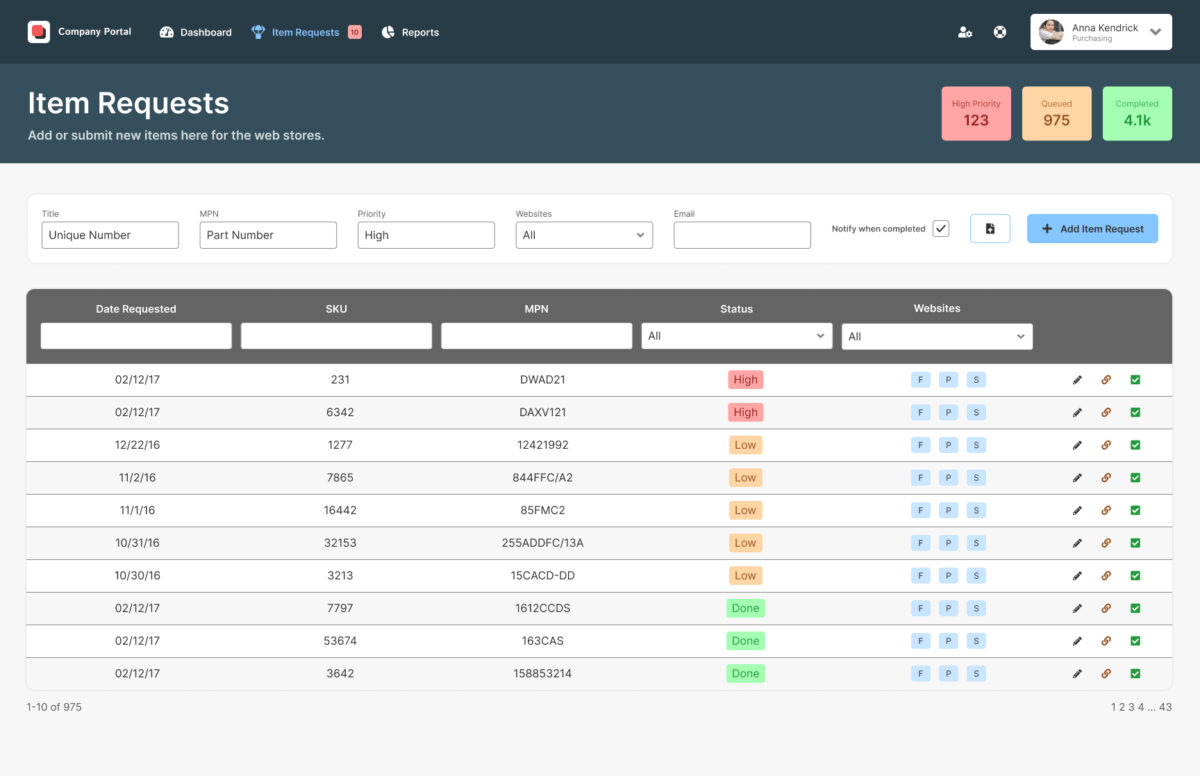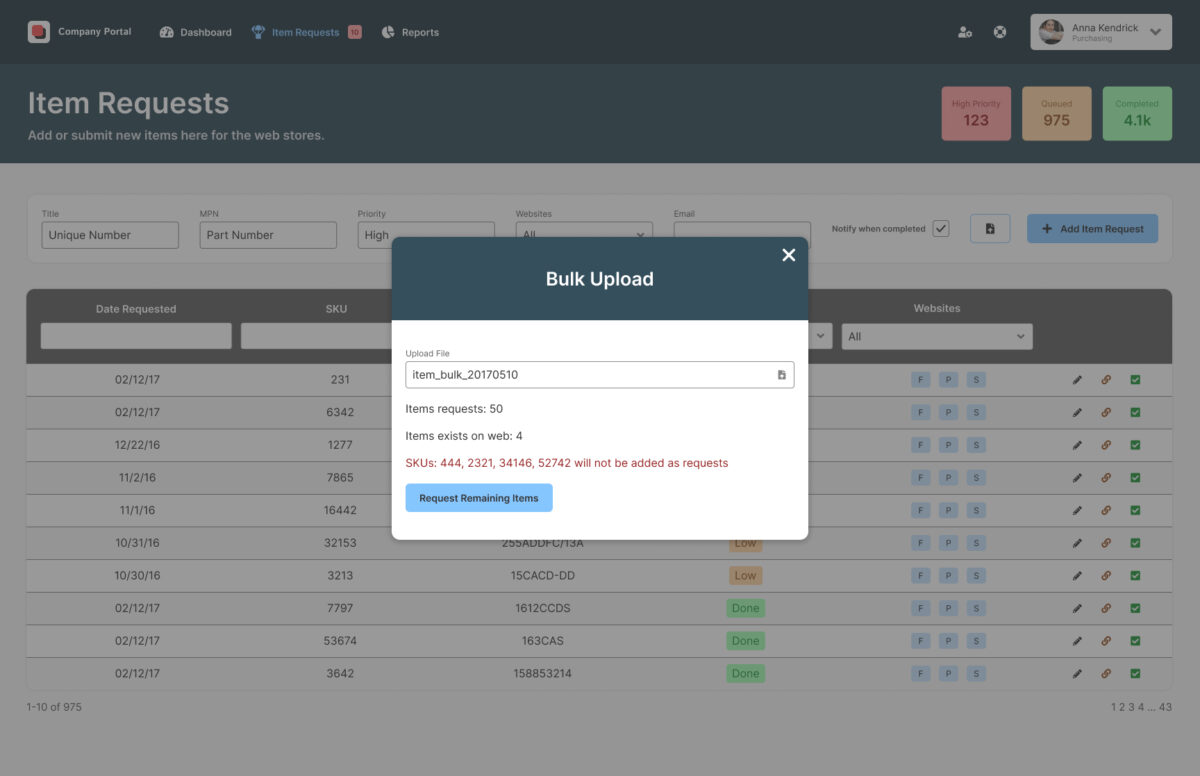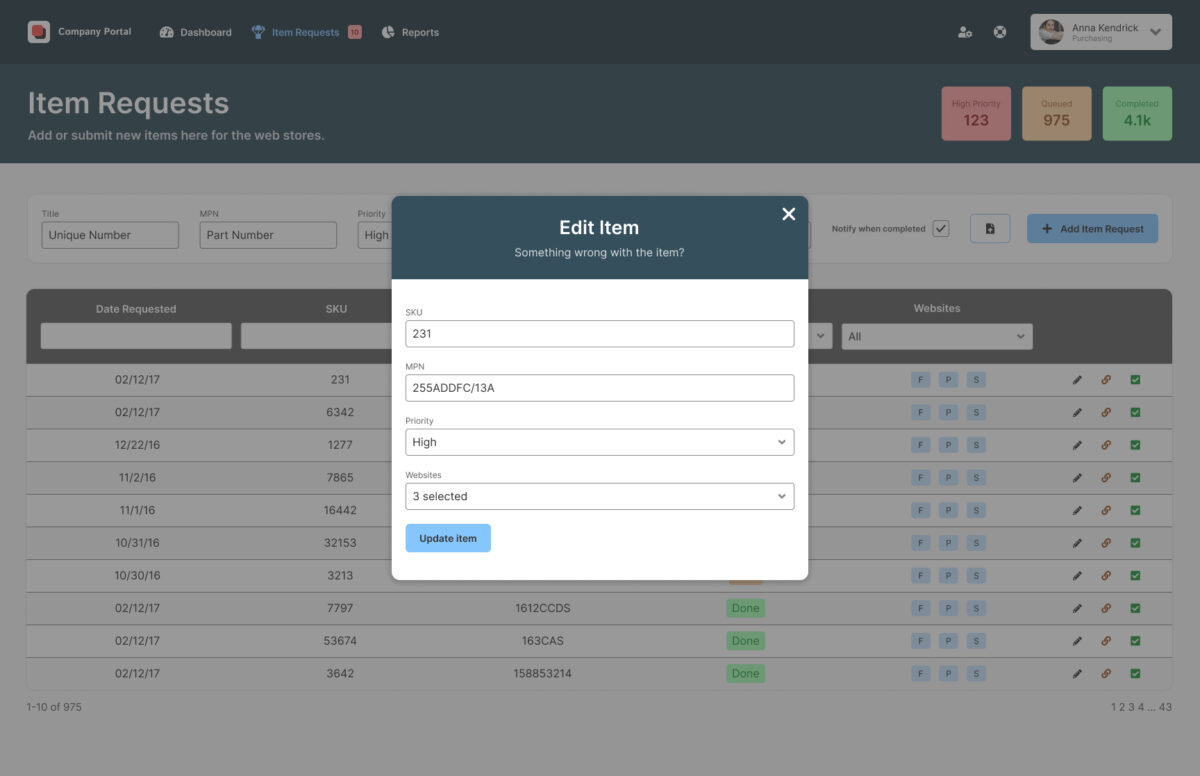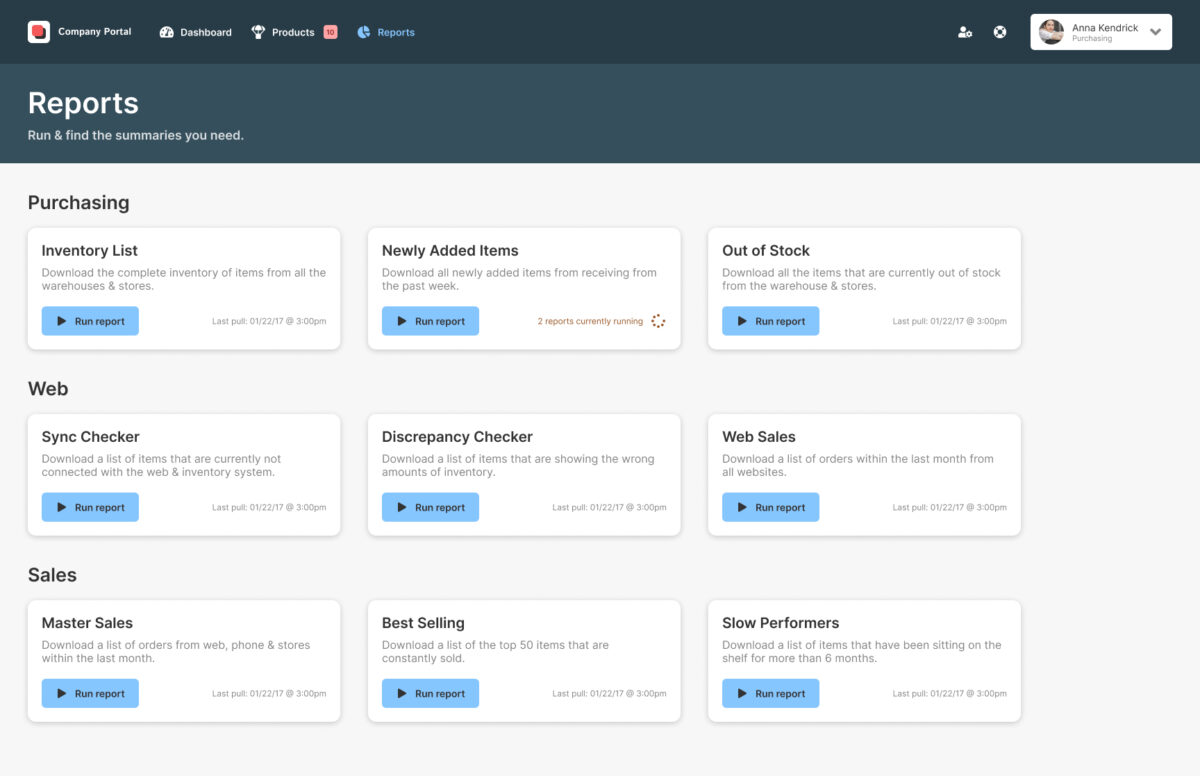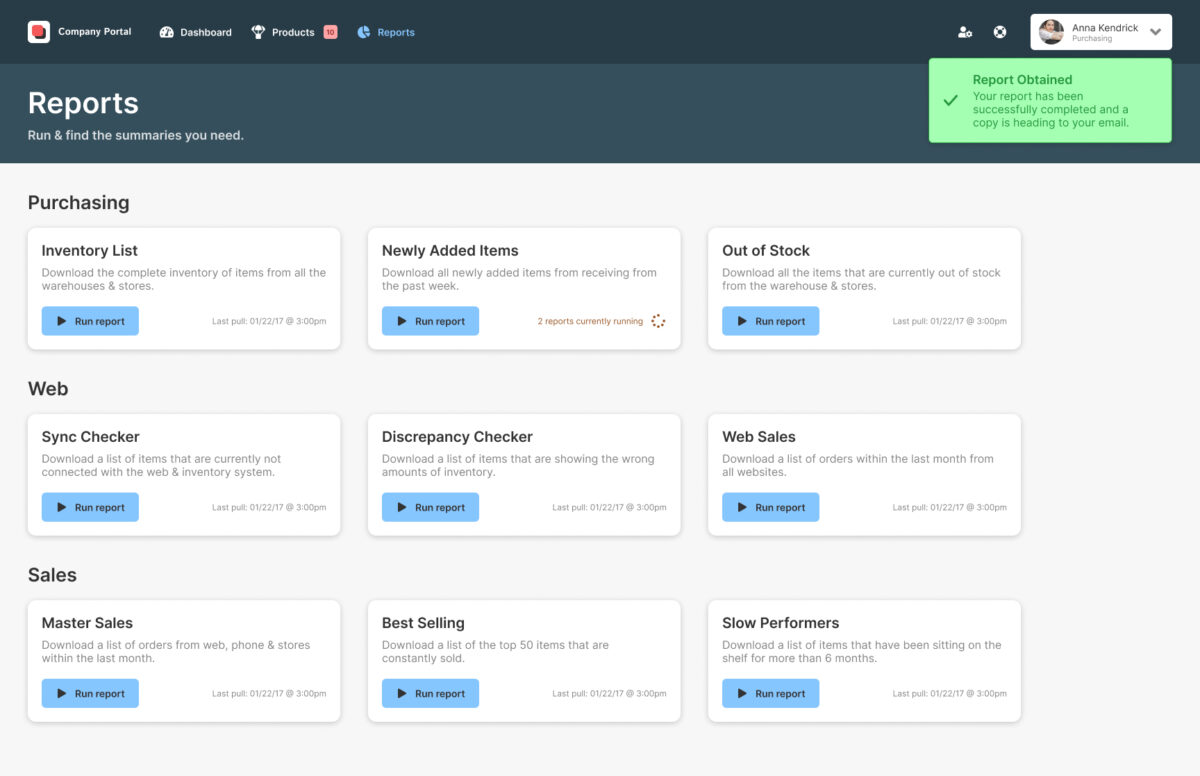 Managers were often using the inventory management system, which was viewed to be too complicated and time consuming. To add onto our portal, managers wanted a quick way to getting key information.
With the introduction of reports, it brought in two new launch features. We added toast notifications and email/SMS notifications into the fold. Initially, there wasn't any plans to provide any alerts until we found out it was crucial during the conceptting phase.
Initially, during the concept and mockup phase, these were going to be separate pages for each submenu item. However, after prototyping, we decided that having a long singular page and have the submenu act like a moving table of contents. This vastly improved the experience of the user.
Two new additions made it into the settings page, which was "Language & Region" and "Security".
"Language & Region" was added to help alleviate some coding issues with the timing feature of notifications and language was to expand use of the software due to the diversity of team members. "Security" was added because of the e-commerce software that was used. Magento recently upgraded to where 2-Factor Authentication was a requirement, thus we wanted to replicate that experience to get users used to it.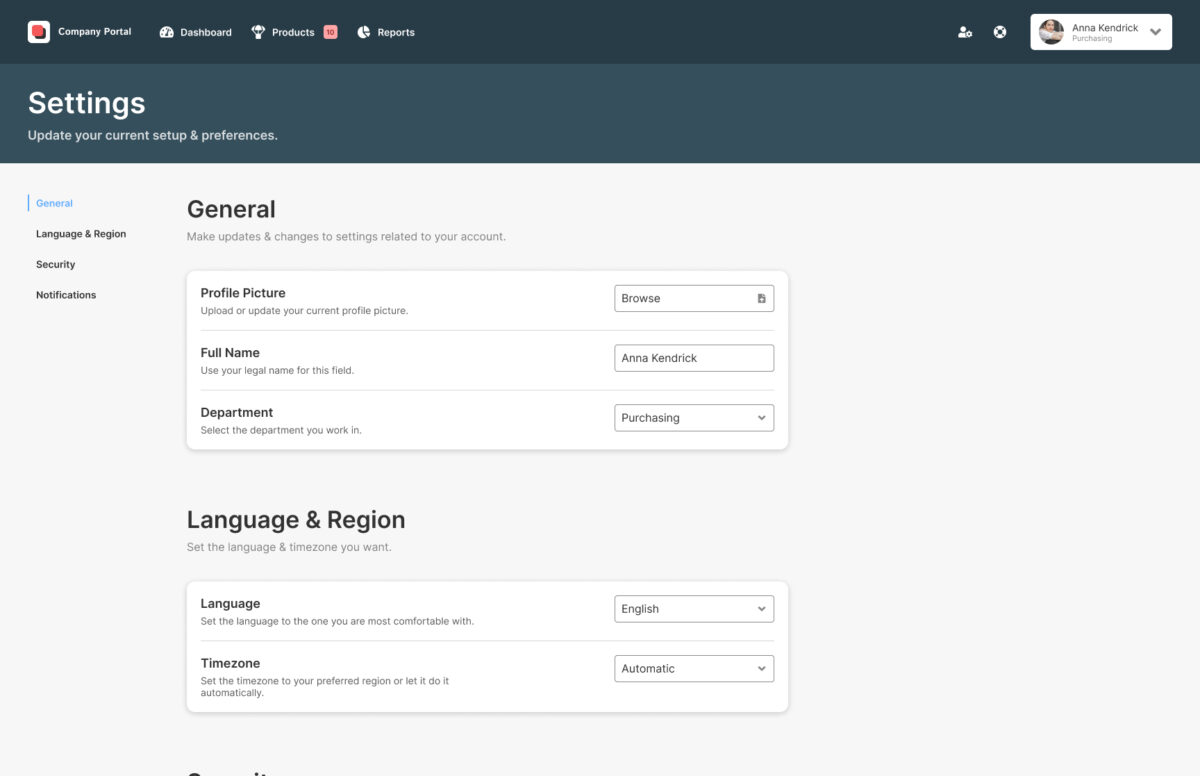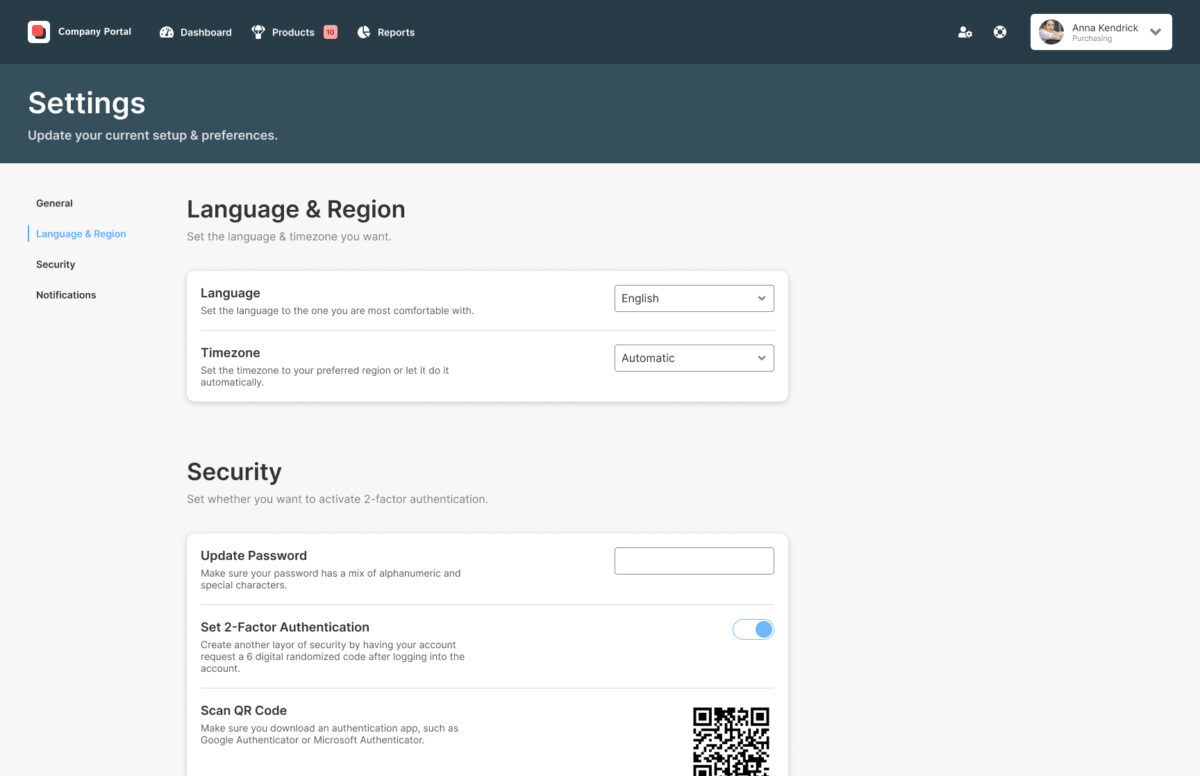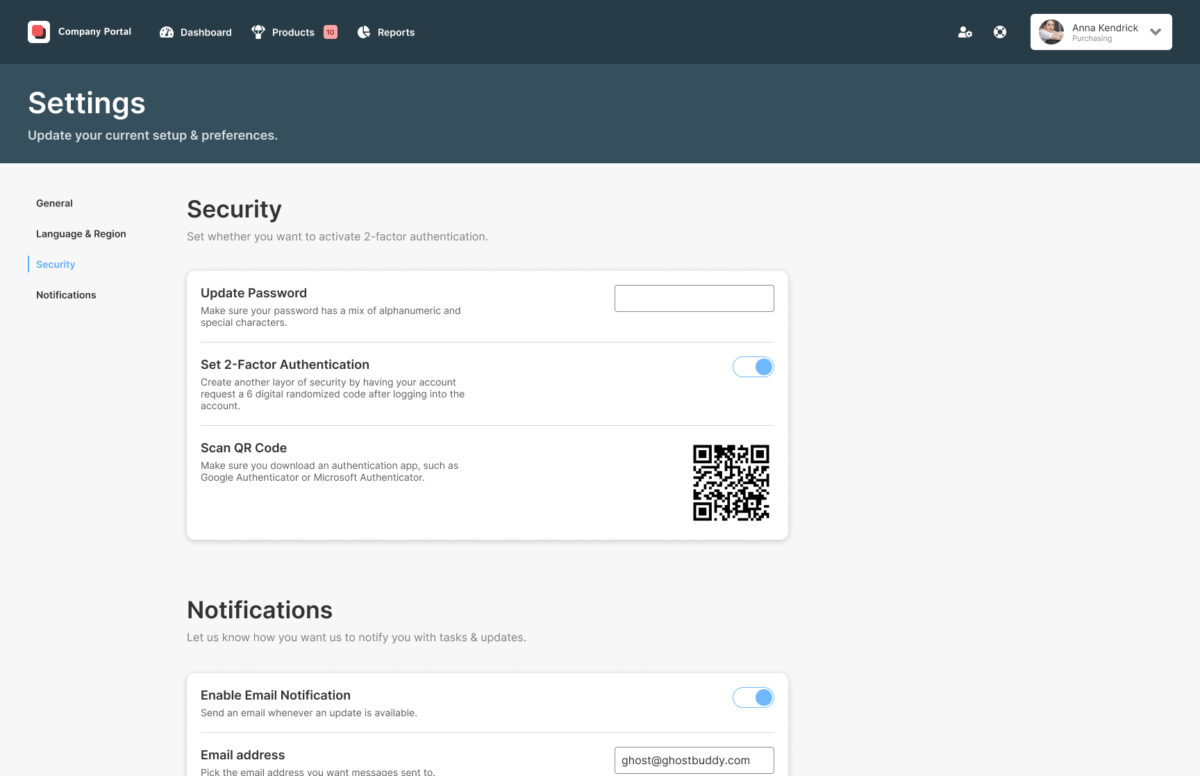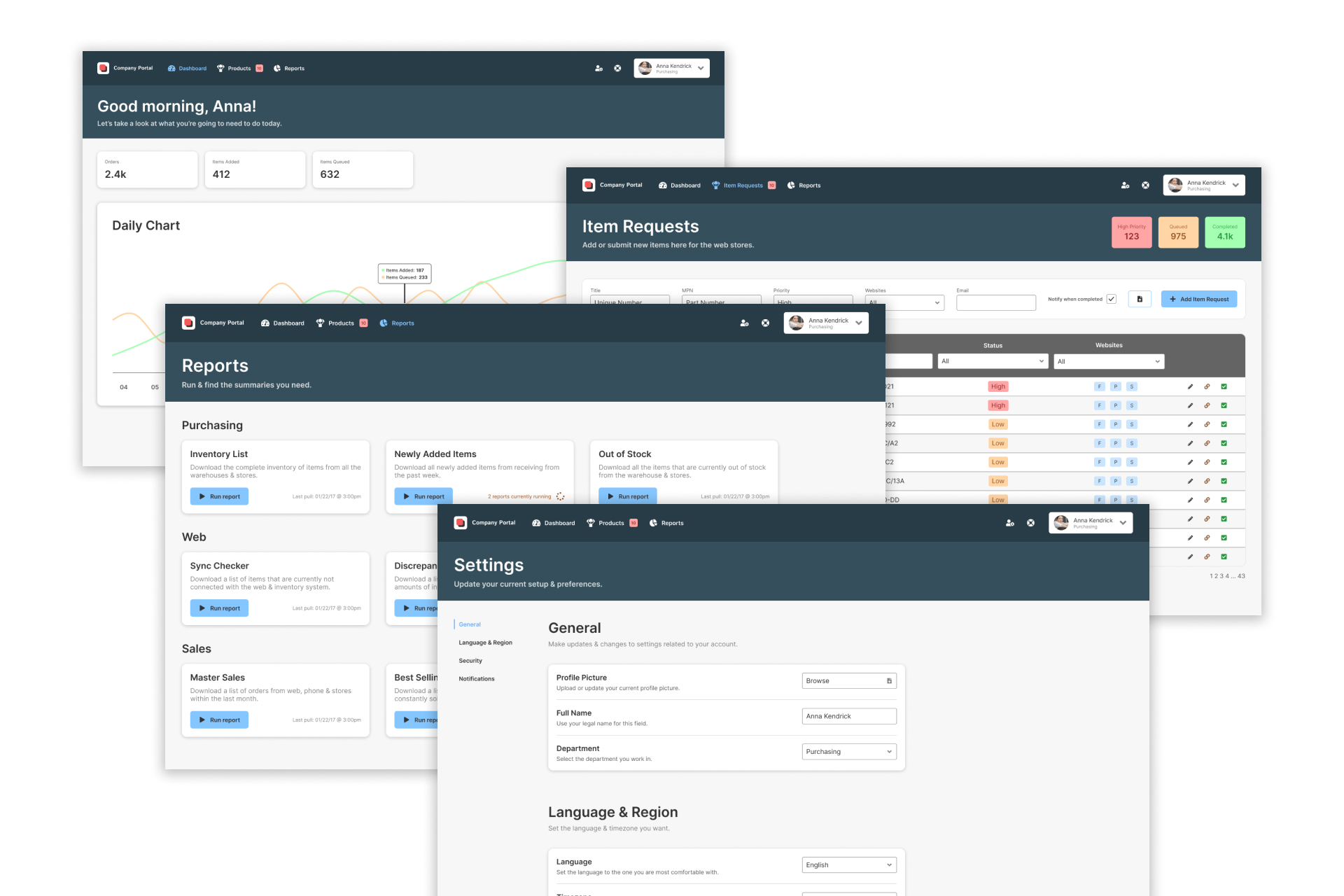 At the beginning of the launch, the new portal was a slow roll out. We started with the sales department with the new tool. With further user testing, we tuned and tweaked the system until that department was ready to use on a daily basis.
As we expanded into other departments, it became apparent that the new tool was a success, and all departments began using it for various tasks. With that in mind, all departments began requesting more functionality to better help them utilized the portal for their needs.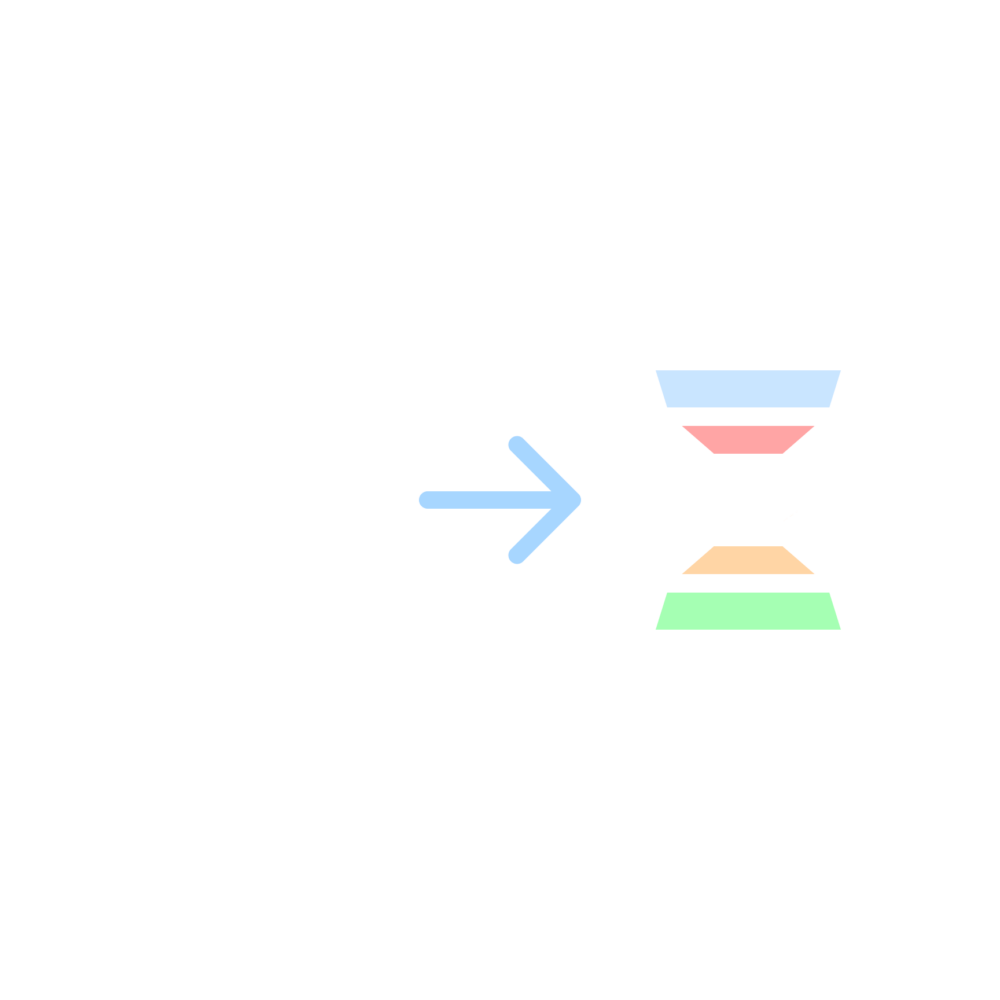 examples of new feature requests
Importing web orders from all storefronts (Web, Amazon, Ebay)
Requesting new items based on customer's requests
Integrating with quoting software
Corresponding with 3rd party suppliers
Importing vendor sheets for pricing and availability
Integrating with syndicate sources for product information and specs
Importing ship-ready orders from ERP to shipping software
Enabling real-time feedback for stock
Sending tracking numbers to ERP & web storefronts
Allowing time-based events to occur for sales
Implementing weekly stock and sales reports
Linking current event sales & coupons across all platforms
As everyone has done, we do a little reflecting on what we did in the past. Looking back now, there were a number of things that I could have done to help my design process from start to finish.
Even though we were communicating with the team members of each department, we weren't communicating with their managers. This project was being worked on during our downtime initially. If we communicated with the managers of each department, we felt the project would have progressed earlier and be more feature rich.
There was a lot of mismanagement with this project. It went from a side project to a full project with just me figuring out all the parts needed on my own. Because of that, I missed parts of the project that should have been taken care of in the beginning. If I was working with a project/product manager, I wouldn't have to go scrambling whenever adding new features.
Even though we were using Google Drive to store all of our findings and research, it was messy. We should have been using a tool, like Notion, to help mark important findings cohesively and with great organization. We often were searching for specific files with specific findings that we couldn't simply search using the search tool since it wasn't built for that.